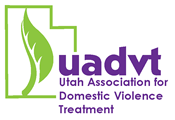 Training Opportunities
Pre-service Basic Training Workshops
These workshops are designed for those who need the 24-hours of pre-service training in domestic violence in order to qualify to provide domestic violence counseling services for offenders and/or survivors. 24 CEUs approved by NASW for each workshop. The cost is $150.00 for one workshop or $300.00 for both workshops. Direct questions to Derrik Tollefson (derrik.tollefson@usu.edu) or 435.621.2992.
2018 Trainings:
Survivor Training: January 22-24, Kaysville
Offender Training: January 24-26, Kaysville


Survivor training: April 23-25, Salt Lake City
Offender training: April 25-27, Salt Lake City


Survivor training: August 20-22, Salt Lake City
Offender training: August 22-24, Salt Lake City
Registration Link

Survivor training: November 5-7, Salt Lake City
Offender training: November 7-9, Salt Lake City
Registration Link
Location:
USU Taylorsville
920 W Levoy Drive, Taylorsville, UT

Time:
8:00 a.m. to 5:00 p.m. daily with one hour lunch break (on your own)
Trainings Endorsed for Survivor Treatment Providers
Trainings endorsed as being Trauma Informed

The DHS/DCFS Contract required treatment providers working with Domestic Violence to have a population-specific, trauma-informed training as approved by the UADVT. The UADVT's Trauma Informed Endorsement Workgroup (a subcommittee of the UADVT) reviews trainings developed by or organized as conference presentations for Utah Association for Domestic Violence Treatment Providers, and Utah Domestic Violence Coalition

To view what trainings/presentations have been endorsed, please view the list HERE

To submit your training/presentation for trauma informed endorsement, follow the procedures HERE (Please consider checking the list of trauma informed endorsed trainings to determine whether the training in which you have interest has already been endorsed.)

If you have questions related to this information you may contact the Chair of the Survivor Training Endorsement Workgroup, Debbie Comstock, at debbiecomstock7@gmail.com
Pre-Service Training Materials
DVRNE Scoring Sheet
---
Note: The UADVT is not responsible for the content of the postings or the external Internet sites. If you have questions about a specific posting, contact the sponsoring organization. Please be aware the contents of web pages we link to may change without notice. Please notify the UADVT if you find links that do not connect.